Personal Information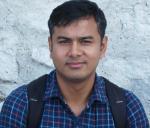 M.Sc., M.Phil., Ph.D. (Environmental Sciences)
Biogeochemistry
Hydrogeochemistry
Biomarkers
B.Sc.- 2002-2005; D.A.V. College, Panjab University, Chandigarh
M.Sc.- 2005-2007; School of Environmental Sciences, Jawaharlal Nehru University, New Delhi
M.Phil.- 2007-2009; School of Environmental Sciences, Jawaharlal Nehru University, New Delhi
Ph.D.- 2009-2015; School of Environmental Sciences, Jawaharlal Nehru University, New Delhi
My teaching interests include Environmental Geosciences, Coastal and Marine Environment, Instrumentation for Environmental Monitoring and Analysis, and Ecology and Ecosystems etc.
My research focuses on the biogeochemistry of aquatic ecosystems (both freshwater as well as saline). My research investigates the natural and anthropogenic controls on elemental cycles at regional and global scales. I started my investigations with Hydrogeochemistry of the Gangetic plains and then expanded to investigate the soils and sediments in the coastal and floodplains sediments.
My doctoral research focused on the biogeochemistry of Sundarban mangrove ecosystem.
My present research focuses on the biogeochemistry of playas in the arid and semi-arid environment of Rajasthan targeting lacustrine environment at an ecosystem level.
I am also interested in the global carbon cycle and how does it respond to natural and human-driven changes. I also look into the pollution aspects of wetlands via investigating the elemental cycles.
| S. No. | Authors | Title of Article | Journal/Conference Details | Journal/Conference | Publication Year |
| --- | --- | --- | --- | --- | --- |
| 1 | Somdeep Ghosh, Madhurima Bakshi, Alok Kumar, AL Ramanathan, Jayanta Kumar Biswas, Subarna Bhattacharyya, Punarbasu Chaudhuri, Sabry M Shaheen, Jörg Rinklebe | Assessing the potential ecological risk of Co, Cr, Cu, Fe and Zn in the sediments of Hooghly–Matla estuarine system, India | Environmental Geochemistry and Health | Journal | 2018 |
| 2 | Prabhat Ranjan, AL Ramanathan, Alok Kumar, RK Singhal, Dilip Datta, M Venkatesh | Trace metal distribution, assessment and enrichment in the surface sediments of Sundarban mangrove ecosystem in India and Bangladesh | Marine Pollution Bulletin | Journal | 2018 |
| 3 | Praveen K Singh, Alok Kumar, Kakolee Banerjee | Methane Emission and Its Variability in Different Land-uses of Semi-arid Region, Rajasthan | Journal of Climate Change | Journal | 2018 |
| 4 | Chander Kumar Singh, Anand Kumar, Satyanarayan Shashtri, Alok Kumar, Pankaj Kumar, Javed Mallick | Multivariate statistical analysis and geochemical modeling for geochemical assessment of groundwater of Delhi, India | Journal of Geochemical Exploration | Journal | 2017 |
| 5 | Alok Kumar, AL Ramanathan, MBK Prasad, Dilip Datta, Manoj Kumar, Swati Mohan Sappal | Distribution, enrichment, and potential toxicity of trace metals in the surface sediments of Sundarban mangrove ecosystem, Bangladesh: a baseline study before Sundarban oil spill of December, 2014 | Environmental Science and Pollution Research | Journal | 2016 |
| 6 | Shreya Dhame, Alok Kumar, AL Ramanathan, Punarbasu Chaudhari | Elemental composition, distribution and control of biogenic silica in the anthropogenically disturbed and pristine zone inter-tidal sediments of Indian Sundarbans mangrove-estuarine complex | Marine Pollution Bulletin | Journal | 2016 |
22015-16Completed:
1. Title: Low Carbon Urban Water Environment; Funding Agency: United Nations University-Institute for the Advanced Study of Sustainability, Japan; Sanctioned Amount: $ 12320; Role: Project Investigator; Duration: 2015-16.